AX Restaurant
For ages, ingredients, spices, and flavours have been brought to Jätkäsaari harbour in merchant ships sailing the world's seas. Inspired by the products brought by the colourful containers, the urban meeting place AX Restaurant boldly combines spices and flavours from around the world in both classic and modern dishes.
Sustainable, seasonal ingredients, local delicacies, and rich flavours from around the world merge into an art of taste in the hands of our kitchen artists. This is the door not only to food and drink that stroke the taste buds, but also to a world of art that surprises, enchants, and evokes emotions.
Come and fall in love with the art and a symphony of tastes: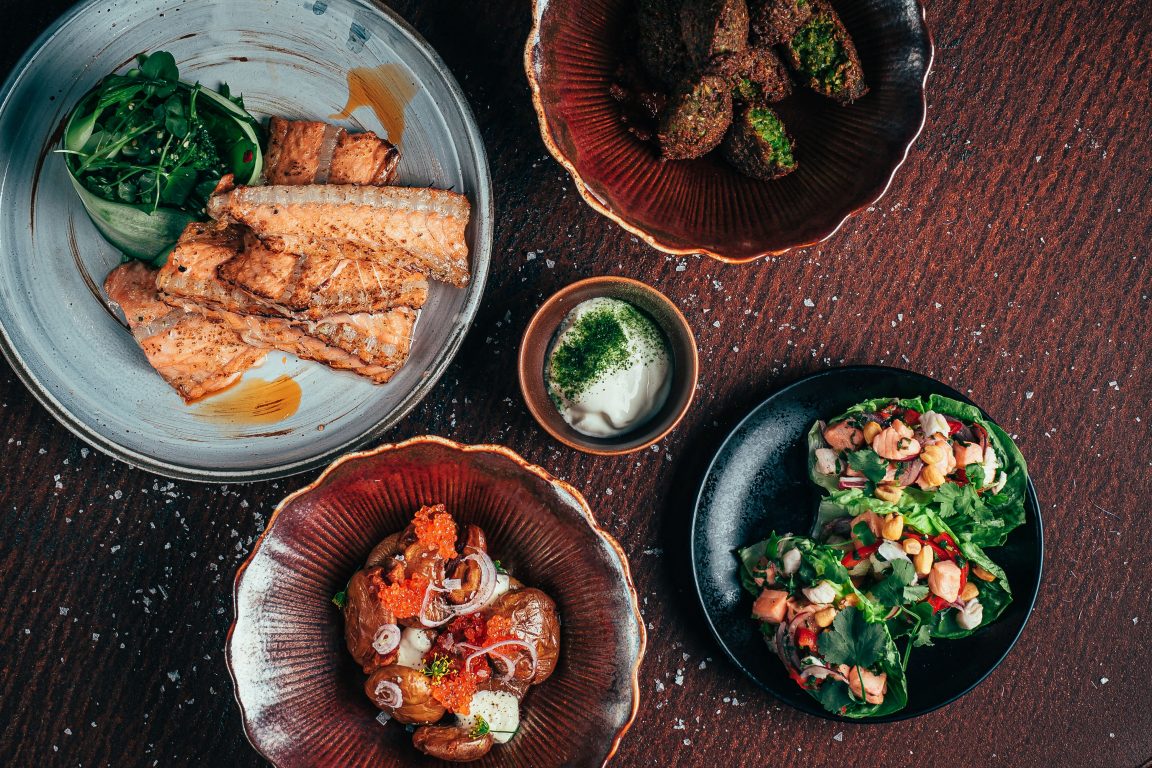 The new block restaurant and inspiring living room in Jätkäsaari
The panoramic windows of the 80-seat AX Restaurant offer an urban view of the Jätkäsaari street view. The unique spiral stair case takes you to the hotel's breakfast and event room AX Under, which is full of art and surprises.
AX Restaurant serves from early morning to late evening. We serve a quality artesian breakfast every day at the art-filled AX Under. Our breakfast is a personal, high-quality, and uncompromising hotel breakfast with AX Bagels as a signature product.
Come and experience the very first Bagel Bar in Finland!
See the á la carte -menu:
Opening hours of AX Restaurant
Breakfast
Breakfast schedule:
Monday to Friday 7.00–10.00
Saturday to Sunday 7.30–11.00
Art brunch
Saturdays from 11.30 to 14.00.
À la carte
Monday to Wednesday 17.00–22.00 / kitchen closes at 21.00
Thursday to Saturday 17.00–00.00 / kitchen closes at 22.00
Sunday closed
AX Bar
We offer the most delicious artesian cocktails of the season, carefully selected wines, and trendy beers. Our wine list is a testament to the variety and contrasts of wines – we have selected different wines from both the new and old world of wines on our list. We want to surprise you in the field of drinks as well.
You can book a dinner table or feel welcome to just come in without a reservation. We always have tables available on a First Come, First Serve basis! If there are no tables available immediately, please have a seat at our rusted steel bar for a moment and enjoy an AX Signature Cocktail or a glass of organic wine, and a table will be released in no time.
AX Garden
In the summer time, the facilities of our restaurant extend to the garden-like courtyard terrace, AX Garden. Resembling an oasis, AX Garden is a meeting place created in cooperation with Kyrö Distillery, where we serve our á la carte dishes and refreshing Kyrö summer drinks. Kyrö Distillery Company, which has won several international awards, produces their rye-based products in an old dairy in Isokyrö.
AX, the art experience, is always a promise of experience!